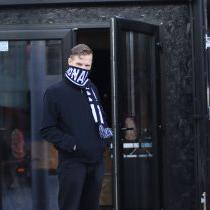 Bio
Guided by an innate sense of rhythm, musicality and flow.
After a five year hiatus to concentrate on a career in professional cycling, Sheffield born artist Nyra who is now residing in London is back with a bang.
Having launched his own imprint, already gaining masses of support from Jackmaster, Midland, Jacques Renault, Annie Mac, Ben Sims, Krankbrother and more, he is heading out on the road again.
Nyra, aka Ryan Davis, first emerged in 2008. In the years after he soon amassed a solid discography of no frills house and techno that was expertly designed to turbocharge dance floors. His effortlessly effective, inventively rhythmic style found favour with bosses at esteemed labels like Never Learnt, Elastic Dreams and Secretsundaze and saw him play high profile gigs all over Europe from Fabric London to Sonar to ADE.
At the same time, he founded influential Sheffield warehouse party Downlo at Dan Sane and welcomed a who's who of underground heroes from Marcel Fengler to Norman Nodge to Ben UFO and Baby Ford. That party paved the way for the city's now celebrated Hope Works venue, whilst Ryan himself went on to pursue a career in cycling. It was something he started to fall in love with and he soon ascended through the ranks, getting signed by ever better professional teams. Reaching the top of the sport in the UK, he started getting the music itch once more so is now back with a vengeance and plenty to offer.
2016 saw him make an immediate impact with sets at Carl Cox's Music is Revolution party in Ibiza as well as an appearance on the Terrace for Sundays at Space. Now he proudly launches Canoe, a new label in cahoots with Oushe—a long time producer, some time Red Bull Music Studio employee and life long friend.
Nyra was also was the co founder of the successful club and club night Downlo at Dansane.