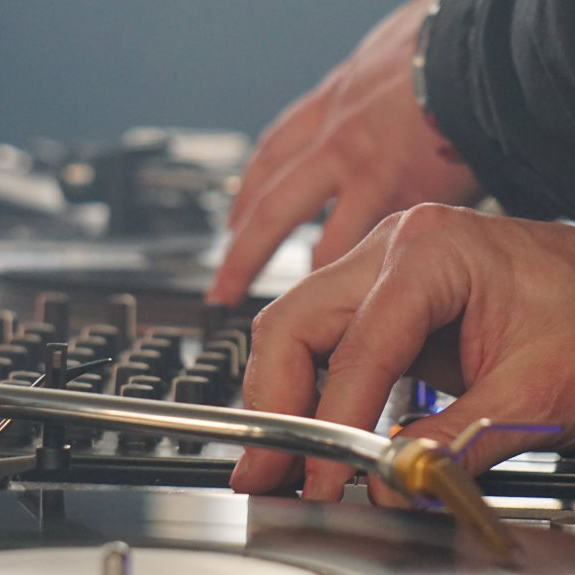 Bio
Rising Sun is the production alias of Steffen Laschinski, a producer and multiple record label curator from Berlin.
The producer, DJ and label boss Steffen Laschinski, a.k.a. Rising Sun, has a long track record in the field of electronic music. His labels Styrax and Kristofferson Kristofferson have attained cult status amongst DJs and record collectors alike. With releases from Larry Heard, Ron Trent, Shed, Baby Ford, and Herbert – to name but a few – the labels have become a staple in sets from distinguished international DJs and are often sold at exorbitant prices online.
Laschinski has become an institution as a DJ and producer with his project Rising Sun, achieving recognition for the unique emotional depth to his style. His music weaves together melancholic narratives to move the listener on an emotional level, eschewing the cliché of house purely designed for the dance floor.
Dubbed by music magazine Das Filter as the "godfather of outsider house", Rising Sun received unanimous praise in the press for his last album Lamentations Of Rising Sun, with Groove naming it as one of their favourites/album of the month. In addition to this, his releases on the renowned labels Workshop, Real Soon, and Just Another Beat can often be heard on top international dance floors.
The intense emotional quality of Rising Sun's music has united various camps of listeners and gained popularity with audiences around the globe. His hit "Lift Up Your Faces" became a ritual closing track of the notorious Amnesia Club in Ibiza.
As a DJ, Rising Sun stands for traditional, historically aware house and techno in the vein of Basic Channel, Detroit, and deep house, yet he still maintains a keen ear for fresh and new sounds.
He is currently working on new releases and remixes for famous international labels.
"This is not a simple release, it's a gift to the entire human kind…enjoy it." doubledash2, 2011 (YouTube)